Hello everyone and welcome to my stop on the blog tour for No Sad Songs by Frank Morelli! On today's stop you are all being spoilt rotten with an exclusive extract from the book that is going to have you itching for it to be in your hands right now.
Before we get onto the exciting part though, if you've been following along with the tour then I'm sure you know all about Frank by now. But for those who are just joining us here is a little about the author:
FRANK MORELLI has been a teacher, a coach, a bagel builder, a stock boy, a pretzel salesman, a bus driver, a postal employee, a JC Penney model (see: clerk), an actual clerk (like in the movie of the same name), a camp counselor, a roving sports reporter, and a nuclear physicist (okay, maybe that's not true). At heart, he's a writer, and that's all he's ever been. His fiction and essays have appeared in more than thirty publications, including The Saturday Evening Post, Cobalt Review, Philadelphia Stories, Jersey Devil Press, and Indiana Voice Journal. His sports-themed column—"Peanuts & Crackerjacks"—appears monthly at Change Seven Magazine.
A Philadelphia native, Frank now lives near Greensboro, NC in a tiny house under the trees with his best friend and muse, their obnoxious alley cats, and two hundred pounds worth of dog.
Now, before we move onto the exciting part that I know you are all here for (if you haven't just skipped past all of this to get to the big shebang anyway) here is a little refresher of the synopsis of No Sad Songs.
Following a family tragedy, 18-year-old Gabe LoScuda suddenly finds himself thrust into the role of caregiver for his ailing grandfather. Between the shopping trips and the doctor visits with Grandpa, Gabe and his friend John try to salvage their senior year, meet girls, and make the varsity baseball team. It doesn't take long for Gabe to realize that going to school and looking after a grandfather with Alzheimer's is more work than he ever imagined. And when long-lost Uncle Nick appears on the scene, Gabe soon finds that living with Nick and Grandpa is like babysitting two grown men. Aside from John, the only person who truly understands Gabe is Sofia, a punk-rocking rebel he meets at the veteran's hospital. When these three unlikely friends are faced with a serious dilemma, will they do what it takes to save Grandpa? If there's a chance of preserving the final shreds of Grandpa's dignity, Gabe may have to make the most gut-wrenching decision of his life—and there's no way out.

Add to your Goodreads here.
Onto the exciting part! Drum roll please: da-da-da-da-da-da-da-DUM!
from chapter 9 – "Smooth as She'll Ever Be"
pp.73-74
I'm in the garage by six o'clock the next morning. I have my AC/DC shirt on and there's a bandana on my head in the style of freaking Blackbeard's ghost. It took me twenty minutes to tie the damn thing and I still look a bit like Aunt Jemima. I flip on the radio to Philly's number one rock station: 94.1 WYSP. Kurt Cobain is singing "All Apologies" and, for once, it's not the crappy acoustic version.
All of this prep work is just so we can look like we know what we're doing—even if my last attempt at mechanics was building a tree house in the apple tree next to Mom's garden . . . out of papier-mâché. Apparently, I didn't take the lessons learned by the first two pigs very seriously when Dad would read me all those bedtime stories. Anyway, it rained that night and my paper house ended up looking like the victim of a frat boy prank by the next morning.
Don't laugh, because John's not much better. He shows up at six-thirty with a bag full of sugar donuts and a cardboard box filled with assorted tools—two boxes of finishing nails, a set of pipe wrenches, four pairs of safety goggles, an electric drill, a hacksaw, and a brand-new roll of athletic tape. The items jingle and jangle together like Christmas ornaments as John sets them on the workbench. Dad's workbench—where he used to construct the mansions of the birdhouse world and notch out tenons and use freaking wood glue. Wood glue.
Boy, would he be happy to see me feeling my way through a box of tinker toys on the work bench he built with his own hands.
"Tell me," I say, "Did you pull a hammy on the walk over here? Because, what the hell are we going to do with athletic tape?" John shrugs and takes another tired bite of his donut. "This is a car we're fixing here. It's not a—man, I don't even know what you'd build with this mess. And what's with the safety goggles?"
"You can blame my mom for that."
"You told her?!"
I can feel the sweat begin to build under my pirate gear.
"No. Don't worry. I told her I'm working on a school assignment. Gravity-powered vehicles for physics." That's John—the geeky lab rat in grease monkey's clothing.
"Alright, let's get serious," I say—which apparently entails spreading John's useless tools out in a line next to the car and staring, in silence, at the fender for twenty minutes straight. When that does nothing to improve the status of the vehicle, I kneel in front of the tire and wheel my nose to within centimeters of the pockmark.
"You don't know what to do, do you?" John asks after another full minute of silence.
"Not a clue. Best I can do is guess."
~~~*~
And that's all folks! I know, I know, you want more, but unfortunately I'm not allowed to give away any other information. But my fellow blog tour members are! So make sure you're following Neverland Blog Tours on Twitter so you never miss a stop and if that isn't enough for you then you can preorder your own copy of No Sad Songs from Book Depository, Amazon UK
or Amazon US.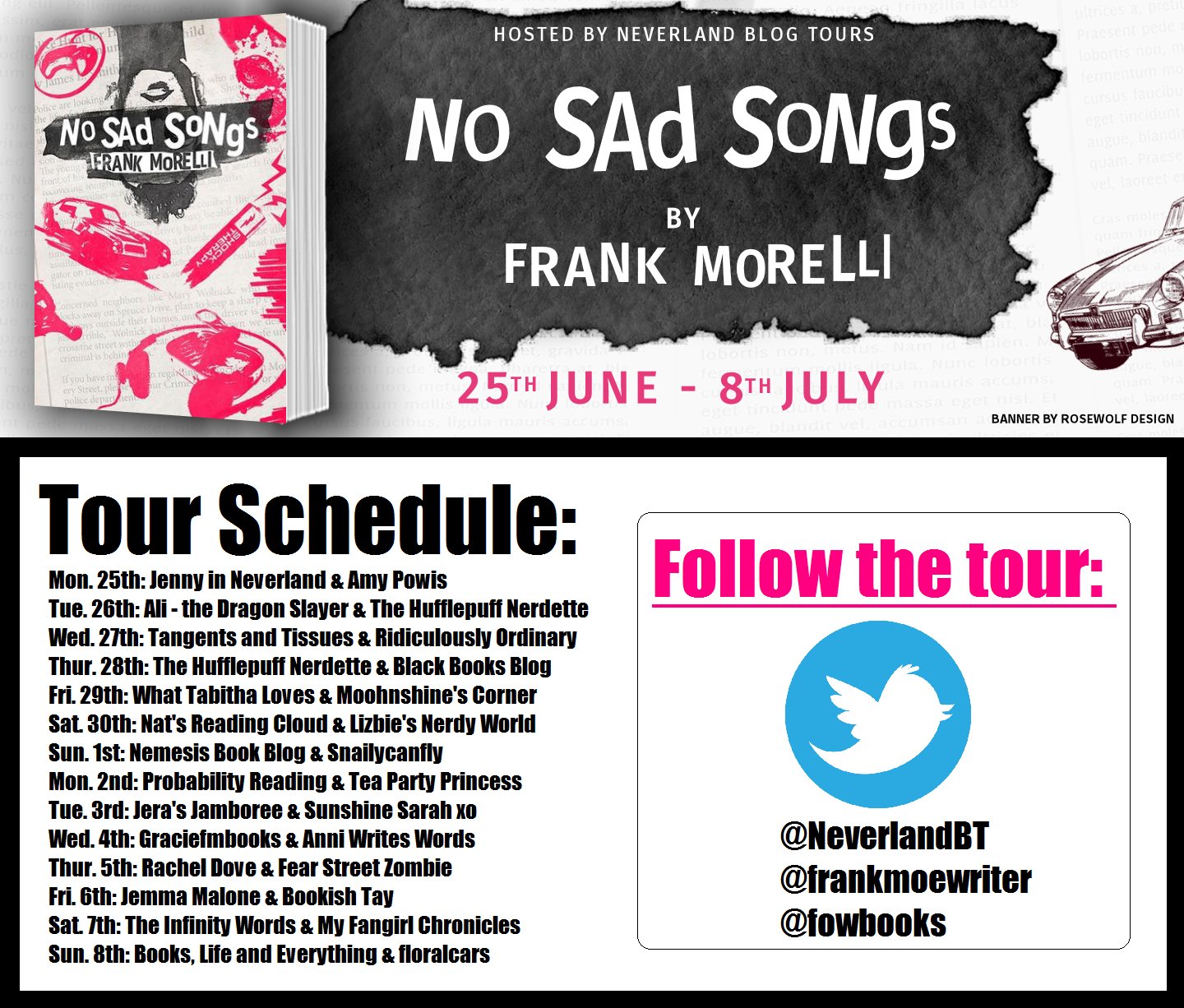 *Some of these links are affiliate links and I will make a small amount of money if you choose to use one at no extra cost to yourself.